Welcome to My Garden!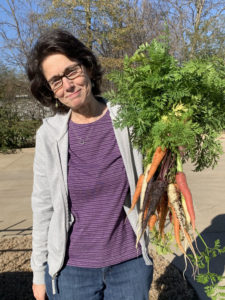 My name is Hildy, and I love to grow my own food. Like many avid gardeners, I grow a wide variety of vegetables. But instead of growing directly in the ground, I garden in containers, raised beds, and planters.  Gardening above the ground lets me move beyond the spacial limitations of a traditional in-ground garden to expand my growing space as needed. In recent years, I even had a robust garden growing in my driveway! Now, however, I live in the hill country of Texas where the soil is rocky, so, as in previous gardens, I grow my own food above ground.
What's In My Garden?
I have grown a good variety of vegetables, including broccoli, cauliflower, lettuce, zucchini, cucumbers, black-eyed peas, snap green beans, acorn squash, spinach, Swiss chard, herbs, strawberries, butternut squash, red onions, green onions, carrots, strawberries, patty pan squash (scallop squash), Brussels sprouts, delicata squash, turnips, sweet potatoes, and okra. And the list continues to grow, just like my garden.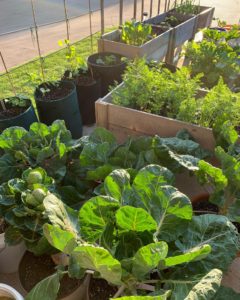 I hope you'll visit this page often for information on how to grow vegetables, not only in containers but also in traditional garden beds. I have many how to grow articles, as well as articles on how to organically combat the pests and diseases that seem to love fresh vegetables as much as you do. In the process, I hope to encourage you that you, too, can garden where you are, regardless of any limitations you may be facing.
God bless and happy gardening!
Psalm 1:2-3 (NASB) But his delight is in the law of the LORD, and in His law he meditates day and night.  He will be like a tree firmly planted by streams of water, which yields its fruit in its season and its leaf does not wither; and in whatever he does, he prospers.
Want to connect? 
Email:  OkraInMyGarden@gmail.com 
Instagram: @okra_in_my_garden
Pinterest: Okra In My Garden