If you hang out in the gardening world, it will only be a matter of time before you hear someone mention the term soil pH.  Although the term may be familiar, many do not know what it means or why it is important.
What is Soil pH?
The abbreviation pH stands for potential hydrogen. The "H" is capitalized in this instance because it is the symbol used in the periodic table for hydrogen.  Soil pH, therefore, is the measurement used to determine the acidity or alkalinity of soil based on the amount of potential hydrogen or the concentration of hydrogen ions. If all this sounds a bit too scientific, don't worry, it gets easier from here.
Soil pH is measured on a scale between 0 and 14.  A pH of zero is the most acidic a substance can be, while 14 is the most alkaline.  A pH rating of 7 is considered neutral.  Soil with a pH above 7.0 is considered alkaline, while soil with a pH less than 7.0 is said to be acidic.
To help us better understand the pH scale, consider apple cider vinegar.  It has a pH between 2.8 to 3.0, which according to the scale below, indicates that it is very acidic.  If you have ever taken a tablespoon of this healthy vinegar in a glass of water then this no surprise to you!  Baking soda, on the other hand, is more alkaline with a pH between 8.0 and 9.0.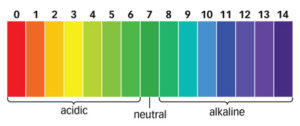 It helps to know that soil pH is calculated on a logarithmic scale, where there is a ten-fold change between points either in acidity if you go down the scale, or alkalinity if you go up the scale.  For example, a pH of 4.0 is ten times more acidic than a pH of 5.0.  A pH of 6.0 is ten times more alkaline than a pH of 5.0.  Thus, a relatively small numeric change in either direction can represent a dramatic change in soil pH.
There are a number of factors that determine soil pH.  For instance, rainfall, soil type, the amount of organic matter, and soil microorganisms all play a role in soil pH. [1]   In addition, seasonal changes can also affect soil pH.  It is not uncommon for pH levels to fluctuate a half a point (0.5) from season to season, becoming slightly more alkaline in cooler weather and slightly more acidic in warmer weather. Chemical fertilizers can also affect soil pH by making it more acidic.
Why Knowing Your Soil's pH is Important
Each plant has a preference when it comes to pH levels, although most plants grow best in soil that has a pH between 6.0 (slightly acidic) and 7.5 (slightly alkaline).  That's because nutrients in the soil are more readily available in this range.  If the pH level is too high or too low for a particular plant, the nutrients will not be available for the plant to take up in its roots causing the plant to languish and possibly die.  (My next posts will be on how to lower pH levels.) Thus, it will not matter how nutrient-dense the soil is, if the pH is off, the roots will have difficulty accessing them.  So what you may think is a nutrient deficiency in your soil may actually be a problem with the pH.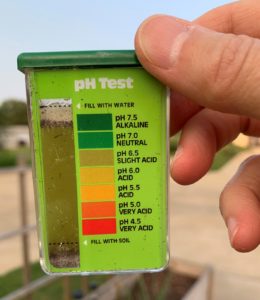 Another reason soil pH is important is that it can positively or negatively affect the health of soil-life like microorganisms and earthworms.  Healthy soil organisms mean healthy plants.
---
This article contains affiliate links.  If you make a purchase using one of these links, I will receive a very small commission at no additional cost to you, and it will help me maintain this website.  Rest assured, I only recommend products I actually like!
---
How to Test Soil pH
Because the proper soil pH is important to overall soil health and therefore the health of your plants, it is important to test your soil periodically.  How often will depend on your situation.  If you are experiencing a problem with a plant of an unknown origin, you may need to test right away.  Others, however, may choose to test only once a year.  Regardless of when you check pH levels, it is a good idea to test nutrient levels (N = nitrogen, P = phosphorus, K = potassium) at the same time. 
While the science behind soil pH may seem a bit intimidating to some, testing your soil pH doesn't have to be.   Thankfully, easy to use soil test kits and soil meters can be purchased for a reasonable price.  They are quick and convenient to use and results are available in just a matter of minutes.  Alternatively, your local county extension office more than likely offers soil testing.  Although it will require you to send in a soil sample and waiting up to several weeks for the results, it will be more comprehensive.  You can find a link for the nearest extension office in your area in the Resource page under Helpful Gardening Links.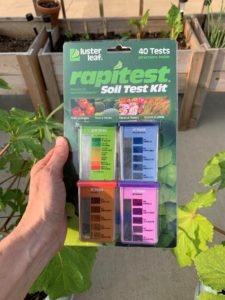 If the test results reveal that the pH is not where you need it to be, there are a variety of ways that you can lower or raise the level.  Regardless of which method you choose, you will need to follow directions so as not to overcorrect the level and negatively affect the soil.  
Below is a chart that lists the optimum pH levels for growing various vegetables and herbs.  The information is based on a consensus of data from a wide variety of sources. While a plant may be able to grow outside of the given range, it will do best if grown within the parameters listed. 
Thank you for reading this article!  If you found it helpful, please consider sharing it with others via email or social media!   
---
[1] Generally speaking, areas that receive higher amounts of rainfall will have a more acidic soil pH because high levels of rain will cause elements such as calcium and magnesium to leach out of the soil quicker.
Vegetables and Herbs

Preferred pH Range